Wed., Aug. 20, 2014, 1:09 p.m.
Lentils For More Than Just Soup, Stew
Growing up, we ate lentils galore. Packed with protein, fiber and folate, they're hearty, stick-to-your-ribs ingredients, popularized in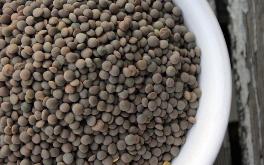 America by 1971's "Diet for a Small Planet." Mom – well-meaning, health-conscious and thrifty – tucked lentils into almost every soup or stew throughout the 1970s, '80s and beyond. Mentioning how good they were made me – as a kid – want to eat them even less. I still picture the legumes by the bowlful – mushy, watery and brown, with onions and a few carrot discs for color. I bought them anyway as a young adult, keeping them on hand as an affordable and versatile staple. Maybe I was just used to having them on the shelf. For years, I kept them as an emergency food/Adriana Janovich, SR. More here.
Question: How often do you eat food with lentils in it?
---
---