Thu., Aug. 21, 2014, 8:22 a.m.
City Shares 4 Corners Report
A new review committee for the city's "four corners" project met privately Monday to discuss project elements which could eventually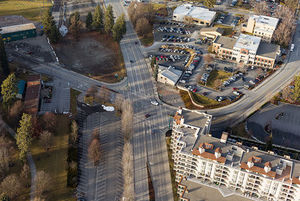 transform the six-mile public corridor's waterfront. According to Keith Erickson, the city's spokesman, a decision was made to meet without the media present so the advisory committee members would be able to share their ideas freely. Erickson wrote a report about the elements of the project that were discussed during the Monday meeting and released his report to the media on Tuesday. According to Erickson, the committee discussed the possible reconfiguration of parking at Independence Point and the Museum of North Idaho. "(That) will be among the first considerations as officials move forward with a master plan to transform a corridor along the Spokane River that stretches from downtown to Huetter Road," Erickson wrote/Jeff Selle, Press. More here. (Coeur d'Alene Press photo by Shawn Gust, of Four Corners area)
Question: Do you care what happens in the Four Corners project, beyond the Independence Point parking lot and Memorial Field?
---
---