Thu., Aug. 21, 2014, 8:27 a.m.
Gaedel Society Proud Of Its Lunacy
If the Nobel Foundation ever gets around to rewarding "inspired lunacy," I know who deserves to be jetting to Stockholm to pick up that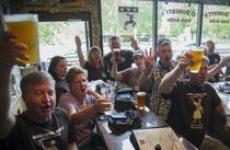 first award. Tom Keefe – the man who gave Spokane (and beyond?) the Eddie Gaedel Society. The society held its fourth annual gathering Tuesday night at O'Doherty's Irish Grille. We came in honor of Aug. 19, 1951. That's the day Gaedel, a 3-foot-7, 65-pound "little person," took his first and only at-bat for the St. Louis Browns. Bill Veeck, the promotions-minded owner of the Browns, put Gaedel in his lineup, stuck him in a uniform with number 1/8th on the back and allowed the half-pint to go to the plate with orders to NOT swing – or else! I probably don't have to tell you that Gaedel drew a walk on four straight balls. Gaedel's strike zone, after all, was about the size of a macaroon/Doug Clark, SR. More here. (SR photo by Colin Mulvany: Eddie Gaedel Society salutes its namesake at O'Doherty's Irish Grille in Spokane on Tuesday)
Question: Would you like to become a member of the Eddie Gaedel Society?
---
---