Thu., Aug. 21, 2014, 10:11 a.m.
CdA Man Tells Of Iraqi Persecution
An Iraqi native, who escaped persecution and now lives in Coeur d'Alene, is working to bring attention to the dire humanitarian situation in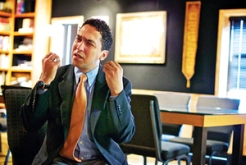 his home country. When Michael Paul found out about recently slain journalist Jim Foley, he cried. "I really cried today to God. I mean what a hero he is. He was arrested in Libya and he went to Syria again and he didn't care," says Paul. Paul grew up a Muslim in Iraq before converting to Christianity at the age of 18. He assisted the U.S. military as a cultural adviser and interpreter and was kidnapped multiple times by different groups for his beliefs. People in Iraq today, they don't have social justice," says Paul. Now he is on a mission: to convert Arabs from Islam to Christianity. "The real source of extremism in the world and the unrest situation is the teaching of the Koran," says Paul/Alex LaFriec, KXLY. More here. (Coeur d'Alene Press File Photo, of Michael Paul)
Thoughts?
---
---