Thu., Aug. 21, 2014, 1 p.m.
Small-Business Group Backs Otter
The National Federation of Independent Business (NFIB/Idaho), comprised of over 4,500 small businesses throughout the state, has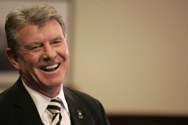 endorsed Governor C.L. "Butch" Otter in his re-election campaign for Governor. In the organization's endorsement, NFIB/Idaho praised Governor Otter for his stewardship of the state through one of the toughest economic times in the nation's history. "True to his word, Governor Otter held the line on taxes and spending during the most difficult economy in many decades," said Suzanne Budge, Idaho state director of NFIB. "In the face of strong criticism, especially from the education establishments, he refused to raise taxes and forced government to live within its means. As a result of his steadfastness, Idaho is better positioned to reap a bigger harvest from an improving economy"/Kaycee Emery, Otter4Idaho. More here.
Question: Do you agree/disagree with this endorsement?
---
---