Fri., Aug. 22, 2014, 5:03 p.m.
Drug Seizure Money Pays For BearCat
The Ballistic Engineered Armored Response Counter Attack Truck, or BearCat, is an 8-ton personnel carrier built with steel armor and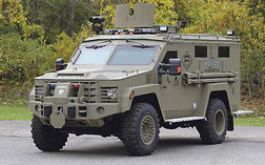 ballistic glass. In October 2010, a gunman shot and killed his neighbor in Tyler, Texas. A BearCat was deployed as part of the law enforcement response and during the ensuing standoff, the vehicle took at least 35 shots from an AK-47 without being pierced. When Kootenai County is in need of such a vehicle, Sheriff Ben Wolfinger said, they borrow one from Spokane or Bonner County. His office primarily uses a BearCat in the event that a potentially armed suspect is barricaded in a home. Those incidents are becoming more and more common, Wolfinger added, making it more difficult for agencies with BearCats to part with them to loan them out/Keith Cousins, Coeur d'Alene Press. More here. (Coeur d'Alene Press photo: This is the Lenco BearCat G3, a tactical armored vehicle similar to the one the Kootenai County Sheriff's Office recently)
Question: I wonder how many miles it gets to the gallon?
---
---