Fri., Aug. 22, 2014, 2:13 p.m.
Fair Offers Variety Of Food, Treats
Jessica Esposito carried a package of pastel-pink and blue cotton candy as she and her husband, Anthony, wandered toward the exit of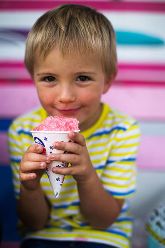 the North Idaho Fair and Rodeo Thursday afternoon. The Post Falls couple pushed a stroller that carried their 6-week-old daughter Gianna, who was sleepy after a big day. It was Jessica's goal to snag a bag of the fluffy treat to take home when they left the Kootenai County Fairgrounds. The fair's theme this year is "Summer's Best Tradition," and one tradition that completes the experience for many fairgoers is the adventure in tasty eats. "We came for the food," Jessica and Anthony both said, laughing. "I just had the frozen, chocolate-dipped cheesecake," Jessica said. "It was good. I probably should have shared it"/Devin Heilman, Coeur d'Alene Press. More here. (Coeur d'Alene Press Photo by Tess Freeman: Skeet Peloza, 4, enjoys a snow cone at the North Idaho Fair and Rodeo on Thursday afternoon)
Question: OK, I went with an old standby -- in terms of treats -- at the North Idaho Fair Thursday -- 2 scoops of huckleberry ice cream in a waffle cone, for $4.50. How about you?
---
---