FRIDAY, AUG. 22, 2014, 8:53 A.M.
Online Prank Worries Spokane Police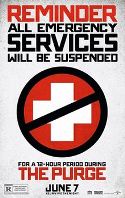 An online prank promising to purge Spokane has police frustrated. The Spokane Police Department has been fielding questions about a social media frenzy that is creating concern in Spokane and other cities. A graphic began circulating on social media websites in August promising a purge in Spokane similar to the 2013 popular horror movie. Flyers have gone around on social media suggesting riots and breaking into stores. The flyer reads: "August 22, 2014 everyone be downtown let's start a riot and hit up all the stores"/Shawn Chitnis, KREM2. More here.
Question: What would you do if you could break the law for 12 hours without penalty (premise of "The Purge" movie)?
---
---