Fri., Aug. 22, 2014, 8:42 a.m.
Thieves Steal CdA Man's Backhoe
The backhoe disappeared from a construction site on Prairie between Atlas and Huetter. It's not uncommon in the construction industry to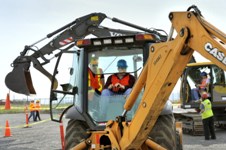 set up for a job the night before, meaning leaving tractors and trailers at a job site so come the next morning you can get to work. Well, that's exactly what Matt Aparicio with Aparicio Excavating was doing on Monday night like he'd done many times before. Unfortunately at 6:30 Tuesday morning Aparicio was ready for work only to find his 2005 Caterpillar backhoe was gone. At first he thought it was a miscommunication with his staff or maybe friends were playing a joke on him. "Then it just kinda set in that wow somebody really could have stolen this backhoe," he said/Caiti Currey, KXLY. More here. (SR file photo for illustrative purposes)
Question: Did anyone see a backhoe rumbling down a street?
---
---