Mon., Aug. 25, 2014, 10:30 a.m.
Balukoff Stumps To Votes At Fair
The fair signals different things for different people, and for politicians it's no different: It's campaign season. A.J. Balukoff was on a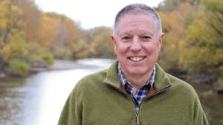 campaign swing through North Idaho Friday and - like his opponent, incumbent Gov. Butch Otter, did earlier this week - he was headed to the fair. Balukoff, an accountant and longtime Boise-based businessman, is running primarily on a platform to increase school funding and create jobs. Education spending is an issue he is well aware of as the president of the Boise school board. "The reason I got into this race in the first place is centered around education," he said. "I've been on the Boise school board for 17 years and watched the defunding of our schools and also the erosion of local control"/Jeff Selle, Coeur d'Alene Press. More here.
Question: Did anyone meet Democrat Balukoff at the fair?
---
---