MONDAY, AUG. 25, 2014, 2:53 P.M.
H95 Projects Off Table, No Funding
As Don Davis has monitored the traffic and crash statistics along U.S. 95 in Coeur d'Alene and Hayden, he has noted some relief in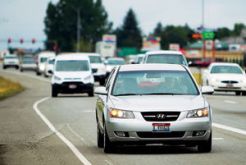 recent years. But the Idaho Transportation Department senior planner is also not taking his eyes off the data. Davis has watched traffic and crash statistics taper in recent years since the 2005 boom and he said that's a good thing, especially with highway project funding still difficult to come by. "We are watching closely to see if something out of the ordinary happens or if we get a hot spot," Davis said. "But we're at 2,000 less vehicles per day than we were in 2005. It's a pretty static situation right now." Davis said no major projects are planned in the next five years in the corridor due to the lack of funding/Brian Walker, Coeur d'Alene Press. More here.
Question: Have you had a close call on Highway 95, between Appleway and H54?
---
---