MONDAY, AUG. 25, 2014, 10:49 A.M.
Justice For Arfee Sets Sept. 7 Rally
On the Justice for Arfee Facebook page, 91 Friends have indicated they will participate in a rally at Java on Sherman, 819 Sherman Ave.,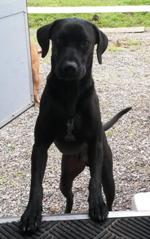 Coeur d'Alene, at 11:45 a.m. Sunday, Sept. 7. This message was posted on the Facebook site: "We believe that fair Justice for ARFEE requires the Coeur D'Alene city PD officer who murdered Arfee to be terminated. It is not in any of our best interests to have such public servants armed within our community. The degree of dangerous and unnecessary action that was taken by the pubic servant who murdered Arfee is entirely unacceptable and frightening. We stand behind the belief that public servants such as this are a threat to the safety and security of the community at large. We are the ones who pay our public servants for a quality service. When that service is proven to be unworthy of our support, we are empowered to call for his/her dismissal." More here.
Question: Justice for Arfee uses the word "murder" to describe the shooting of the 2-year-old black lab by a Coeur d'Alene police officer. Is that the right word to use here?
---
---