MONDAY, AUG. 25, 2014, 11:52 A.M.
Prosecutor Allegedly Aided Criminal
A Spokane County criminal prosecutor is under investigation after allegedly aiding a wanted felon avoid police capture earlier this year.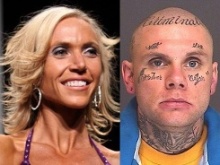 Marriya Wright, 34, has been on paid administrative leave from the Spokane County Prosecutor's Office since April 21. That's the same day investigators filed a search warrant for the Spokane County Jail cell of Matthew Baumrucker, 31, who now faces a federal indictment for being a felon in possession of a firearm. According to court documents unsealed last week, Baumrucker texted a phone traced to Wright 1,280 times between Feb. 6 and March 5, when authorities were attempting to apprehend him on a warrant for drug charges. He was arrested eight days later at a motel in Spokane Valley, according to court records, and booked into jail after Spokane County Sheriff's deputies found a pistol on an air conditioner outside the room he was sharing with another woman. Baumrucker is a six-time convicted felon, including charges of perjury, assault and money laundering, according to court records/SR. More here. (KXLY photos: Wright photo courtesy of Rx Muscle Contest / Baumrucker photo courtesy of Spokane County Jail)
Thoughts?
---
---