Mon., Aug. 25, 2014, 8:48 a.m.
Smoke On The Water Draws BBQers
Visitors to downtown Coeur d'Alene may have seen smoke on the water through the weekend, but there was no fire in the sky. But plenty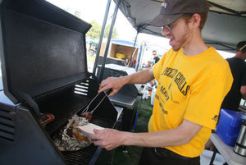 of smoke was in the air while the fires were contained in grills and smokers as nearly 30 teams competed for a chunk of the $5,000 prize purse at the Pacific Northwest Barbecue Association's Idaho State Championship, the 14th annual Smoke on the Water barbecue competition. The cook-off took place Saturday and Sunday in a new location this year, spreading canopies and cooking tents across the lawn of McEuen Park. "It was a great first-year event," said Jay Bremner of Post Falls, owner of Limp Brizkit BBQ. "I think it went great, it was awesome. I wanted to do it just because. It's the first year at McEuen." Teams from near and far competed to woo judges with their unique, bold, spicy, sweet and savory recipes in categories of pork butt, brisket, chicken and pork ribs/Devin Heilman, Coeur d'Alene Press. More here. (Coeur d'Alene Press photo: Spirit Lake's Tim Franey, of Pit Tenders prepares samples)
Question: Did any of you visit the Idaho Smoke on the Water BBQ championship Saturday or Sunday?
---
---