Mon., Aug. 25, 2014, 2:01 p.m.
On The Waterfront — House Scraping
I was nearing the end of my regular noon walk when I noticed demolition activity happening along Park Drive, just north of Memorial Field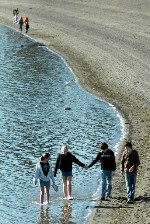 and the entrance to Coeur d'Alene Skate Park. Curious, I changed my route a bit and discovered that heavy equipment had reduced another Lake City Development Corp. rental house to rubble. That means the fourth of 8 (mebbe 9) LCDC properties along the stretch leading north to River Avenue have been scraped for the future Four Corners project. ... On the West Lakeshore Drive part of the walk, I noticed a Fred's Appliance truck in front of those four condos under construction at the Military Drive intersection. That should mean that the properties that stirred a controversy some months ago are getting ready for occupancy. On the Hagadone Hospitality front, a barge and a couple of workers are fixing some weather damage to the boardwalk, about midway around. I wasn't able to do a complete lap of the boardwalk as a result. ... I counted 177 individuals using McEuen Park at noon, including about 100 parents and children in or around the playground and splash pad. Maybe 300-plus were swimming and sunbathing at City Beach. But only a half dozen kids were in Fort Sherman Park. Viewtiful day for a walk.
---
---