Tue., Aug. 26, 2014, 9:02 a.m.
House D's Track R's 'War ON Women'
House Democrats are launching a new campaign targeting 10 Republican candidates and incumbents they deem the "worst of the worst"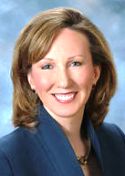 offenders on women's issues via a scorecard that highlights their positions on a range of female-friendly legislation. The Democratic Congressional Campaign Committee scorecard, shared first with The Hill and housed at GOPFailsWomenScorecard.com, outlines candidates' positions on issues ranging from equal pay to transvaginal ultrasounds to overturning Roe v. Wade. Each Republican listed gets a mark showing he's either taken a position on the issue, or is "backed by Republicans who have supported this dangerous agenda"/The Hill. More here. (Ballotpedia photo: Congresswoman Barbara Comstock is one of the Republicans targeted by House Democrats)
Question (for Republican women out there): Do you think the GOP is at war with women?
---
---