Tue., Aug. 26, 2014, 8:13 a.m.
O Canada! Here Comes Burger King?
Burger King may be the home of the Whopper, but Canada may be the new home of Burger King. The restaurant operator said on Sunday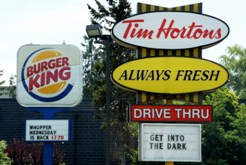 that it was in talks to buy Tim Hortons, the Canadian doughnut-and-coffee chain, in a potential deal that would create one of the world's biggest fast-food businesses. If completed, the deal would mean Burger King's corporate headquarters would move to Canada, raising the specter of yet another American company switching its national citizenship to lower its tax bill/New York Times. More here. (AP photo: A Burger King sign and a Tim Hortons sign are displayed on St. Laurent Boulevard in Ottawa, Canada, on Monday)
Question: Does it matter to you whether Burger King has corporate headquarters in the USA or Canada?
---
---