Tue., Aug. 26, 2014, 8:41 a.m.
Osteoporosis Common, Dangerous
Osteoporosis doesn't just happen to old ladies. Rather, it's a disease that can weaken anyone's bones, regardless of age or sex, putting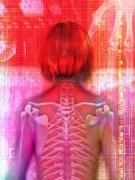 them at higher risk of fracture – which can lead to pain, deformities and a loss of mobility. But osteoporosis can be prevented through diet or exercise, or detected early through testing. About 54 million people in the U.S. have or are at risk of osteoporosis or low bone mass. It's "a silent disease," according to the National Osteoporosis Foundation, "because you can't feel your bones getting weaker." The biggest concern with osteoporosis is breaking bones. The National Institutes of Health estimates that four in 10 women and one in 10 men older than 50 will break a hip, spine or wrist/Margaret Cowles, SR. More here. (Photo: McClatchy-Tribune)
Question: Any of your family suffer from this malady?
---
---