Tue., Aug. 26, 2014, 8:34 a.m.
Teachers, Board Can't Settle
Trustees Dave Eubanks and Christa Hazel, left, listen to a comment from the audience during negotiations with the Coeur d'Alene Education Association (five people sitting behind table to the right). The negotiations were conducted at Woodland Middle School Monday afternoon (Photo: Duane Rasmussen)
Teachers in Coeur d'Alene will start the school year without a contract. Negotiations between the school district's board of trustees and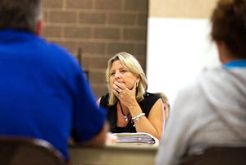 the Coeur d'Alene Education Association -- the local chapter of the state teachers union - broke down a week ago. There was a glimmer of hope that a settlement might be reached at the 11th hour when both sides agreed to return to the bargaining table for one last meeting. The session, held Monday at Woodland Middle School, attracted about 100 observers, mainly teachers. It ended without resolution of the contract, and with an agreement to seek a settlement through mediation/Maureen Dolan, Coeur d'Alene Press. More here. (SR photo by Shawn Gust: Board negotiator Kelly Ostrom listens to a case by the Coeur d'Alene Education Association representatives)
Question: Are you concerned that the teachers and the school board were unable to reach an agreement?
---
---