Wed., Aug. 27, 2014, 3:33 p.m.
Fed Lands Panel Adds Sandpoint Stop
The Federal Lands Interim Committee, a joint legislative interim committee co-chaired by Rep. Lawerence Denney, R-Midvale (pictured), and Sen.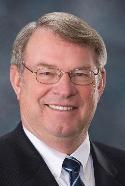 Chuck Winder, R-Boise, has scheduled a seventh public hearing, this one in Sandpoint on Sept. 12. That's in addition to the six already scheduled over the next two months, including Sept. 11 in Kamiah and St. Maries; Oct. 9 in Idaho Falls and Soda Springs; and Oct 10 in Twin Falls and Hailey. The move already has prompted a "jeer" from the Lewiston Tribune's editorial page that Denney "just happens to be making a series of statewide swings at taxpayer expense, right in the middle of campaign season, including stops next month in Kamiah and St. Maries." Denney, former speaker of the House and current House resources chairman, is running for Idaho Secretary of State; he faces Democrat Holli Woodings in the November election/Betsy Russell, Eye on Boise. More here.
Question: Do you think former Majority Leader Lawerence Denney is using the federal lands committee tour to politic?
---
---