Wed., Aug. 27, 2014, 3:51 p.m.
Regan Holds Court At Press Online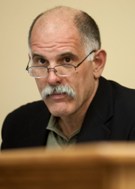 And in the Coeur d'Alene Press Online corner of the local blogosphere, former school trustee Brent Regan is engaged in a battle of words with other commenters RE: the teacher salary negotiations. Sample, from Regan: "The vast majority of this community" of anonymous, cowardly, lying trolls don't like it when I point out facts!?!?!? Now I am 'shocked'. What ever happened to tolerance of diversity? Respect for opposing views? HHMMMMmmmm?" Which produced this response from a commenter Shocked: "Brent. Please just go away. The vast majority of this community does not appreciate your arrogant tone and condescending views." You can follow the back and forth here.
Thoughts?
---
---