WEDNESDAY, AUG. 27, 2014, 8:52 A.M.
Trib: Otter Has Led Idaho Into Ditch
Want to see where Gov. C.L. (Butch) Otter would take Idaho in a third term? It's not a pretty picture. Commissioned by the J.A. and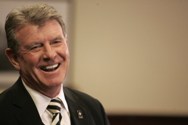 Kathryn Albertson Foundation and the Idaho Charter School Network, ECONorthwest of Portland, Ore., made news last week by projecting an Idaho student body that will be more ethnically and racially diverse, more urban and more impoverished by 2019 than it is today. The economists looked at Idaho's history since the turn of the century and extrapolated the trends forward. But within the report was a disturbing portrait of Idaho. By the decade's end, the state will have a growing underclass -- people actually living in poverty or just above it/Marty Trillhaase, Lewiston Tribune. More here.
Question: What would you expect from a third gubernatorial term from Butch Otter?
---
---