WEDNESDAY, AUG. 27, 2014, 12:52 P.M.
Where's The Democrat Photos?
No less of a light than Idaho Minority Leader John Rusche, D-Lewiston, pointed out in the comments thread here recently that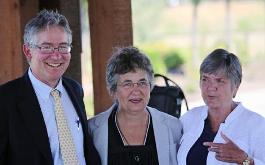 Huckleberries Online doesn't run many photos of Democrats -- or at least not near as many as it does of Republicans. There's a reason for the disproportionate number of photos of Republicans. Duane Rasmussen. Duane is a terrific photographer, who provides Huckleberries Online with bunches of swell photos (including the one of KCSO's new BearCat truck & the flag at the top of the ponderosa at 4th of July Pass, from Tuesday). He's also a partisan Republican. Who provides photos from various activities conducted by Kootenai County's dominant party. He would attend the events any way. So why not take a camera along. Duane has also provided photo of Democrats, including a recent one of Democratic candidates Nels Mitchell, Anne Nesse & Shirley Ringo at Riverstone (inset). He doesn't mind taking photos of Democrats. But he sometimes breaks out in hives as a result. With all that said, I'd like to find a Democrat who would provide more photos of his/her party activities. However, there's a catch. The photos must be good ones. I don't like to run bad photography here. Anyone?
---
---