Thu., Aug. 28, 2014, 3:40 p.m.
City To Dedicate Sherman Substation
The community is invited to an open house and ribbon cutting at the new police substation at 10 a.m. Tuesday. The substation is located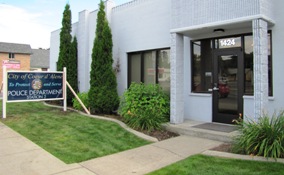 at 1424 Sherman Avenue. There will be tours of the facility and city officials, along with representatives of the police and fire departments, will be in attendance. The substation will be "fully functional" and manned by officers and other support staff Monday through Friday from 9 a.m. to 5 p.m. Officers will have access to the substation 24/7 to file reports and conduct other police business. Locating a substation in this district will provide for increased visibility, quicker response times in the south part of town and act as a deterrent to crime, said Interim Chief Ron Clark. "Not only will this provide a visible police presence, the citizens now have a location in that part of the city to contact police," Clark said/Keith Erickson, Coeur d'Alene Today.
Thoughts?
---
---