Thu., Aug. 28, 2014, 8:20 a.m.
Spokane Valley Officer Kills Dog
A Spokane Valley officer shot and killed a dog after police say the dog bit him several times Wednesday afternoon outside a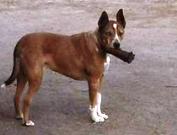 Greenacres residence. The officer, who has not been named, was at the property to return keys to the homeowner's son who lives at the home at 20215 E. Sprague Ave. "He didn't feel comfortable leaving those items outside the gate," Spokane Valley police spokesman Craig Chamberlin said. The officer was walking down a long driveway when he suffered bites on his arms and legs. He was taken to a local hospital for treatment. The yard is clearly marked by multiple "Beware of Dog" signs. Chamberlin said he's not sure if the officer saw the dog before he entered the yard. He also said he did not know why the officer had the son's keys/Nina Culver, SR. More here.
Question: Do you think the shooting was justified/unjustified?
---
---