Fri., Aug. 29, 2014, 11:05 a.m.
Deputy Thought Dog Was Restrained
A Spokane County sheriff's deputy who fatally shot a Spokane Valley man's dog on Wednesday said he thought the animal was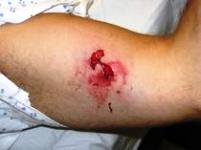 restrained by an invisible fence. Deputy Ryan Smith killed the dog after it bit him twice, once on the left bicep and once on the right hamstring, a news release from the sheriff's office said. The bicep wound required stitches. The family that owns the dog said the dog was a 7-year-old named Cash. Smith had gone to a home at 20215 E. Sprague Ave. around 4:50 p.m. to return keys and a hat left at another home nearby during an incident on Sunday morning. A resident from that incident dropped the items off at the Spokane Valley precinct. The sheriff's office has a contract to provide police services to Spokane Valley. Smith called the home multiple times prior to going there and, once there, sounded his horn to announce his presence, the release said/SR. More here. (Inset Photo, courtesy of Spokane County Sheriff's Department).
Question: Do you place much fault on the deputy in this dog shooting?
---
---