Fri., Aug. 29, 2014, 8:56 a.m.
J-Mac: Teachers Have Good Bennies
JimmyMac (RE: CEA rains on school district's breakfast): I was there this am. It was awkward. I took some lit from the CEA and plan to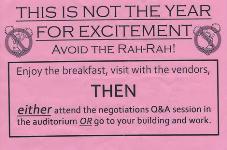 dig into it this weekend. I will tell you that a super majority of the general population would gladly trade places with the teachers on the hikes they are looking at pertaining to insurance and deductibles. The premiums looked pretty on par with much of the better private sector plans that I see but it is the deductibles that are ultra attractive. I believe the proposed change was a $100 hike to the annual deductible for individuals and $200 for families ($400 to $500 and I believe $800 to $1,000). Most hikes that I have seen in the private sector over the past few years have gone from $500ish to $2000 on the individual side and $1,000 to $4,000 for families...and those are amongst the very best. More here. (Inset Photo: Flyer handed out by teachers association Thursday AM)
Question: Who do you think provides better benefits -- the private sector or the public sector?
---
---