Fri., Aug. 29, 2014, 8:49 a.m.
Otter Defends Idaho Ed Spending
Idaho Gov. C.L. "Butch" Otter told an audience of business people in Treasure Valley earlier this week that when it comes to education,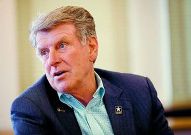 "it's not how much you spend, it's how you spend the money." When asked during a 10-minute phone interview Wednesday with the Daily News to elaborate on his comments and how they relate to Idaho's education system, he said the state's reading and mathematics levels are good even though not as much money is spent per pupil than in such places as Vermont and the District of Columbia. The nation's capital and other large cities have additional concerns that increase expenses, such as security, that aren't costly for schools in smaller and even rural areas -- including metal detectors and substantial levels of targeted law enforcement/Terri Harber, Moscow-Pullman Daily News. More here. (Moscow-Pullman Daily News Photo by Geoff Crimmins)
Question: I agree with Gov. Otter to a point -- that education isn't all about education spending. However, when you rank as low as Idaho does in education spending, you have to think that more money should be spent. Right?
---
---