FRIDAY, AUG. 29, 2014, 9:04 A.M.
Will Risch Run From Debates Again?
U.S. Sen. James Risch, R-Idaho, does not like being on the same debate platform with former Congressman Larry LaRocco, D-Idaho.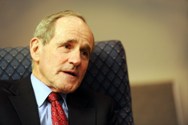 After the pair clashed three times - in 1986 for the state Senate, in 2006 for lieutenant governor and six years ago for the U.S. Senate, the tension between them is conspicuous. All of which may explain why Risch ran away from Idaho Public Television's statewide debates in 2006 and 2008. Of course, Risch is the odd man out. Sen. Mike Crapo and Congressmen Raul Labrador and Mike Simpson, all R-Idaho, have debated their most recent opponents on these statewide forums. Risch can argue he showed up at a Boise television station's debate with LaRocco. Perhaps, the format and the audience was more to his liking. In any event, LaRocco is not running this year/Marty Trillhaase, Lewiston Tribune. More here.
Question: How important to you are political debates?
---
---