Mon., Feb. 3, 2014, 9:33 a.m.
50 Years Ago: Beatles Invasion
At 8, Terry Yeager caught Beatles fever and 50 years later it's still surging through his blood. Yeager was one of 73 million Americans who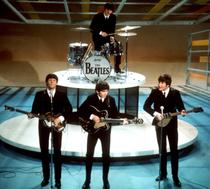 watched the Fab Four's historic, Feb. 9, 1964, appearance on "The Ed Sullivan Show," lying on the living room floor of his Dishman-area home. "It just blew me away," Yeager said. That Sunday evening, excitement boiled as Sullivan famously announced, "Tonight, the whole country is waiting to hear England's Beatles," before the shaggy-haired foursome took the stage and played "All My Loving " during the live U.S. television debut. Girls in the audience screamed, some near hyperventilation. The group played five other songs, including "She Loves You," which caused the audience to explode with noise/Erica Curless, SR Boomer U. More here.
DFO: My family always watched the "Ed Sullivan Show" on Sunday evenings. I was a freshman in high school when the Beatles invaded. The audience of screaming girls almost drowned out their music. I couldn't believe at the time, nor can I believe now, how some of the girls hyperventilated so much that they passed out and had to be carried from the audience.
Question (for the Ladies of HBO): Which Beatle do you think was the cutest?
---
---