Mon., Feb. 3, 2014, 8:22 a.m.
Debra Wilde Trying To Bounce Back
What's it like to be locally famous and then see that celebrity status fade away? Debra Wilde would know. For almost 30 years, she was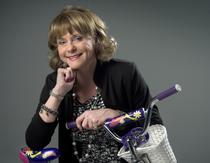 a homegrown high-profile presence on Spokane TV news – as a weathercaster, reporter, talk show host and anchor. That ended in 2007, when she learned that her services were no longer required. But the 63-year-old divorced mother of three adult sons was back on television in a decidedly unflattering context three years ago when she was rescued from her vehicle in the middle of Latah Creek and subsequently charged with suspicion of driving under the influence of alcohol. Wilde has strong views about what really happened and about how certain Spokane media outlets covered the incident. But the upshot was she was given a deferred prosecution deal consisting of five years probation/Paul Turner, SR. More here. (SR photo: Dan Pelle)
Question: I'm pulling for Debra Wilde to bounce back and find happiness. How about you?
---
---