MONDAY, FEB. 3, 2014, 1:14 P.M.
Mother Writes About Her Grief
In 1998, a speeding bus plunged off a cliff in Bolivia and forever altered Linda Lawrence Hunt's life. Her daughter, Krista Hunt Ausland, was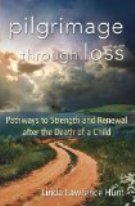 aboard the bus with her husband, Aaron, and their puppy, Choclo. The couple had come to Bolivia to serve a three-year commitment in community development with the Mennonite Central Committee, a church organization that sends volunteers to work at the grass-roots level around the world. Krista, 25, died in the crash. "You never think your child will go before you," Hunt said. "It was devastating." Krista's death launched Hunt on a journey through the searing anguish, dark days, long nights and unexpected grace of grief. The result of that journey is Hunt's latest book, "Pilgrimage Though Loss: Pathways to Strength and Renewal After the Death of a Child"/Cindy Hval, SR. More here. (Book cover photo: Amazon.com)
If you've lost a loved one, what were the gestures that others did for you or that you did for yourself that helped strengthen you?
---
---