Tue., Feb. 4, 2014, 8:35 a.m.
Clark: Twisting And Shouting Again
Beatlemania is once again sweeping the country, and I've been twisting and shouting as much as my arthritic knees will allow, which is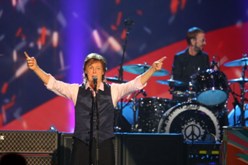 pretty sad when you think about it. But heck, almost a half-century of living has slogged by since the Fab Four invaded New York to make their culture-changing debut on the Ed Sullivan Show. Feb. 9, 1964. Just about every member of my generation sat like zombies in front of the tube that night as Paul and John and George and Ringo did their thing. There were kids who weren't watching, sure. But they wouldn't admit that now to save their skins. My 91-year-old mom can back me up on the fact that I was sitting transfixed on our hardwood front-room floor. There wasn't a word for it back then, but it was one of my first attempts at multitasking. That is, I had to watch the TV while at the same time tune out the cynical remarks of my Old Man/Doug Clark, SR. More here. (AP photo: Paul & Ringo at the Grammies on Monday, Jan. 27)
Question: Do you think you can still twist and shout?
---
---