TUESDAY, FEB. 4, 2014, 10:53 A.M.
Johnson:The World Is Watching
Idaho is making national news again and again for all the wrong reasons. A quick Google search this morning turn up more than 130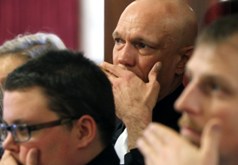 stories on the 44 protesters arrested Monday in the Idaho State Capitol in Boise. Typical was the story in USA Today, a paper/digital publication with the top circulation numbers in the country, that featured the headline: "Dozens of gay rights activists arrested in Idaho." While the issue of same sex marriage has turned into the new civil rights steamroller across the country with state after state abandoning old notions and embracing equality the Idaho Legislature has again refused to even debate the issue of bringing the state's human rights law into the 20th, not to mention the 21st, century/Marc Johnson, The Johnson Post. More here. (Joe Jaszewski's Statesman photo: Demonstrators block the entrance to the Senate chambers at the Idaho Statehouse on Monday in Boise)
Thoughts?
---
---