Tue., Feb. 4, 2014, 5:16 p.m.
New Buzz Words: Why Not You?
With all the things that came out of this years Super Bowl, one stands out, and if it doesn'tbecome the new buzz word, it sure the heck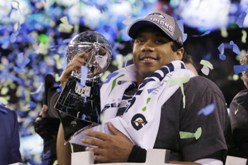 should be. Those words were uttered by Russell Wilson's father — not on Sunday, but years ago. And every parent — EVERY PARENT — should say those words to their children. To drum it into their minds. Russell Wilson was not your ideal football player. Words like too short, not enough weight were just some of the words said about him as he played for high school and college. But his father's words drove this young man on. What great words did this father tell his son? WHY NOT YOU?/From A Simple Mind. More here. (AP file photo: Russell Wilson holding the Lombardi Trophy Sunday night)
Question: Were you inspired by the story about Russell Wilson's father?
---
---