TUESDAY, FEB. 4, 2014, 5:05 P.M.
Republican Calls Hillary 'Anti-Christ'
Ryan Zinke, a Republican candidate for Montana's congressional seat, stirred up a bit of national attention because of his recent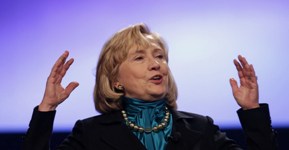 reference to Hillary Clinton as the "anti-Christ" at a Bigfork campaign gathering. At a Jan. 27 gathering at Marina Cay Resort, according to The Bigfork Eagle, Zinke told supporters: "We need to focus on the real enemy," referring to the former Secretary of State. Zinke went on to call her the "anti-Christ." Those remarks were picked up by the Huffington Post, The Hill, Salon and other online outlets over the last few days, framing Zinke's remarks mostly in unfavorable ways/Jim Mann, Kalispell (Mont.) Daily Inter Lake. More here.
DFO: I apologize to my uberconservative readers that I couldn't find a photo of Hillary with horns.
Question: Anti-Christ? Must be time of year when Republican male candidates put their feet in their mouths when discussing females? I'd guess there's more to come, right?
---
---