Improving education is A.J. Balukoff's top priority, and the Democrat candidate for governor believes he has the background to help Idaho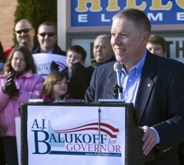 do it. The Boise businessman, who has 16 years of experience on the Boise School Board, spoke to 20 Democrats during a meet-and-greet event at the Post Falls Library Tuesday night. "Education is important to me," said Balukoff, who said he's the first of his grandfather's descendants to earn a college degree. Balukoff, pictured, said the state has invested poorly in education and that has translated into low student test scores. The part-owner of the Grove Hotel, CenturyLink Arena and Idaho Steelheads hockey team in Boise said he also believes there needs to be more emphasis on early childhood education/Brian Walker, Press. More here.
Question: Are you considering voting for Balukoff?