Thu., Feb. 6, 2014, 4 p.m.
Report: Preserve Dike Ponderosas
KEA blog reports: Over the last year, RYA has been analyzing, testing and evaluating the Dike Road's slope, stability and long term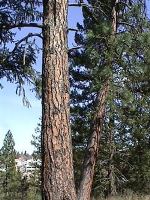 viability. With the goal of keeping as many trees as possible, Arborist, Tim Kasting was brought on to assess the health of over 1000 trees within the Dike's area of influence. His report concluded that at least 350 of those trees will need to be removed due to defects, poor health or crowding. Trees that remain on the Dike that are more than 16 inches in diameter will require annual monitoring and subsequent maintenance. None of the trees recommended for removal are the majestic ponderosa pines that make North Idaho College (NIC) Beach and the Dike Road such a beautiful place to walk, bike, sit, sun, play and park. More here.
Question: Are you OK with taking out 350 trees along Dike Road, as long as the stately ponderosas are preserved?
---
---