Thu., Feb. 6, 2014, 8:49 a.m.
GOP Leaders Say Barbieri Off Base
Every day that the Idaho House passes a spending bill, Rep. Vito Barbieri says he'll chime in to give the public a running count of the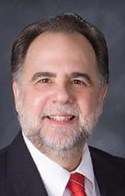 damages. "Taxpayers will be delighted to know that we only spent $1,931,200 today, for a total of $142,153,900," Barbieri said during the announcement period at the close of Tuesday's floor session. That was the fourth time Barbieri offered his accounting, a practice he vows to continue through the end of the session. "It's a minor attempt at just highlighting the importance that what we do is appropriate billions of dollars," said Barbieri, a fourth-year lawmaker from North Idaho. ... But (Barbieri) got some recalibration after legislative leaders decided that it was time to correct Barbieri's figures — which were exaggerated by about eight-fold"/Dan Popkey, Idaho Statesman. More here.
Question: Whose calculations do you believe -- Barbieri's or GOP legislative leaders?
---
---