Fri., Feb. 7, 2014, 8:49 a.m.
Hamilton: Putting An End To Bullyism
Trustee Tom Hamilton of the Coeur d'Alene School Board gave a speech RE: bullies to the Kootenai County Republican Women's luncheon and received a standing ovation yesterday:
Knowing (bully expert Stephen Wessler's) background and focus, I will admit that I was a skeptic. I assumed that he would come in speaking of human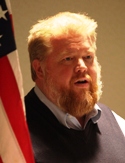 rights and tolerance, boiling our problem down to intolerant kids with intolerant parents. However, he addressed our Board Monday night and he moved me. I doubt there is much that Steve and I would agree on politically, religiously or maybe philosophically. I don't know that for certain because Steve refuses to address it. It simply doesn't matter. What is remarkable to me about what he said is that our bullying problem is not about beliefs but about behavior. He said that we don't have to agree on things where we can't find agreement, but we do have to learn to treat each other with dignity and respect. Sounds a lot like the "old" tolerance to me. That is when it struck me. Dignity and respect is what is missing from our conversation. More here. (Photo: Duane Rasmussen)
Thoughts?
---
---