Fri., Feb. 7, 2014, 1:03 p.m.
What Do Your Books Say About You?
I've been thinking about the life cycle of books. Well, about my books, anyway. Lately, realizing it was time to thin the shelves in my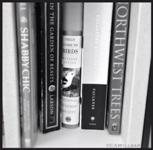 library downstairs, I've been going through them one by one, bagging up the books that no longer interest me or attract me enough to keep. First, the books go to Auntie's Bookstore's "used books" desk. The bookstore staff takes what they want, what they think they can resell, and add a percentage of the original price of the book to my in-store account. I come back a few hours later, pick up what they can't use and donate what's left in the bag to a favorite charity/Cheryl-Anne Millsap, Home Planet. More here.
Question: Well, hat do the books you keep say about you? And/or: Is it easy for you to discard books?
---
---