MONDAY, FEB. 10, 2014, 8:48 A.M.
Crane: My Office Didn't Lose $27M
Managing the state of Idaho's finances for maximum gain carries all the same risks and rewards as your 401(k) retirement fund and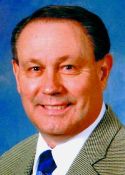 individual stock portfolio. After all, we all invest in the same markets that rise and fall based on the strength or our economy and consumer confidence. Let's suppose you go to your financial advisor and invest $1,000 in a mutual fund with the expectation that you are going to earn $200 in interest income during the next year. But the market conditions change and you only earn $100 in interest earnings. Would you have lost money? Your answer is no. What you lost was "opportunity" money.However, opportunity money is not real cash. You can't budget or spend "opportunity" money. I deal with cash -- not lost "opportunity" -- and it is unfair to write stories with headlines saying the state treasurer lost $27 million -- especially when they know better/Idaho Treasurer Ron Crane. More here.
Question: What do you think of Treasurer Ron Crane's explanation of the losses credited to his office?
---
---