Mon., Feb. 10, 2014, 3:41 p.m.
NIC Student Caught w/Gun, 75 Roundsun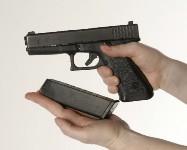 While Idaho lawmakers mull a bill to loosen gun bans on college campuses, a student was arrested today at North Idaho College for carrying a concealed handgun in a classroom. Another student told authorities the man was upset and using drugs, had purchased 75 hollow point rounds for the revolver, and had talked about not being afraid to die. Michael Rustin Dan, 34, of Rathdrum was taken into custody without incident shortly after 9 a.m. Coeur d'Alene Police charged Dan with unlawfully carrying a concealed weapon and possession of drug paraphernalia commonly used for methamphetamine. The man did not threaten employees or students, an NIC spokesman said. Campus security was notified that Dan was carrying a gun on campus in violation of college policy. Another student said he saw Dan in class last Thursday with the revolver holstered under his coat/Scott Maben, SR. More here. (SR file photo)
Thoughts?
---
---