Mon., Feb. 10, 2014, 5:14 p.m.
Remarkable But Shouldn't Be
Perhaps the football-as-life metaphor never fit more snugly than yesterday when a University of Missouri defensive lineman Michael Sam,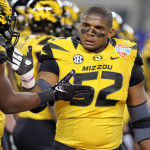 a likely high National Football League draft pick, let the world know what his teammates had known all season long. Michael Sam, a strapping 6 foot 2 inch, 260 pounder, the best defensive player in the best football conference in the country, is gay. His knowing Missouri Tiger teammates selected him as their most valuable player after a season in which they had come to know the real Michael Sam. I can't help but juxtapose that kind of courage and sensitivity against the head-in-the-sand bias and insensitivity of too many politicians from Boise to Sochi/Marc Johnson, The Johnson Post. More here.
Thoughts?
---
---