Tue., Feb. 11, 2014, 5:05 p.m.
Chambers Lives In Wrong District
The candidate Rep. Frank Henderson, R-Post Falls, endorsed to succeed him in office next year has just discovered that his home is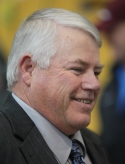 180 feet outside of the legislative district in question – so he's not running. "I'm disappointed, I'm embarrassed, I'm devastated by this," said John Chambers, a semi-retired executive with Ground Force Manufacturing in Post Falls. He actually owns a home in Post Falls right near Henderson's, but four years ago moved into his current place, which is just over the line into District 2. "Where he lives is 180 feet in the wrong direction," Henderson said. "If he lived on the other side of the road, he'd be in my district. He doesn't, so he's in District 2"/Betsy Russell, Eye on Boise. More here. (File photo: Duane Rasmussen)
DFO: I can think of two legislative seats in District 2 that Chambers could run for.
Question: What will this do re: race for Rep. Frank Henderson's House seat?
---
---