Update: A warrant has been issued for Broadsword's arrest, with bond set at $100,000.
At 10:19 p.m. Saturday, Coeur d'Alene police responded to the report of an attempted armed robbery in the 1200 block of Sherman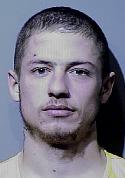 Avenue. A couple was walking east on Sherman Avenue when a male approached. brandishing a handgun and demanding money. The couple was able to get away, and the suspect left on foot in an unknown direction. Investigators have identified Joseph D. Broadsword, 27, of Post Falls, (pictured in KCSD booking photo) as a person of interest. Investigators would like to speak to Broadsword about this incident. If anyone has any information on the location of Joseph Broadsword, please contact the Police Department, 208-769-2320, or email at policetips@cdaid.org/Sgt. Christie Wood, Coeur d'Alene Police Department.