Tue., Feb. 11, 2014, 8:37 a.m.
McGrane Seeks Sec Of State Office
If Phil McGrane has his way, Idaho's next secretary of state is going to be young. The 33-year-old Boise Republican - an attorney and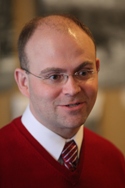 current chief deputy clerk in Ada County - is seeking the secretary of state post in his first political campaign. "One of the great things about doing that job is you always get to fight for what's the right thing," McGrane said Monday in a meeting with The Press' editorial board. As chief deputy clerk in Ada County, he oversees all aspects of the office, which has 140 deputy clerks and a $9.7 million budget. For the clerk's office, he oversees four divisions: the courts, auditors, recorder and elections. He said he has spent much of the past eight years counting ballots, coordinating poll workers, and securing the right to vote in Idaho's most populated county/David Cole, Coeur d'Alene Press. More here.
Question: Who's your choice at this point among the GOP secretary of state candidates?
---
---