Tue., Feb. 11, 2014, 5:29 p.m.
New Boomer Erickson Eschews AARP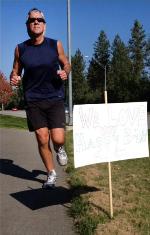 When the AARP membership application appeared in Keith Erickson's Coeur d'Alene mailbox, he threw it in the trash. Another application arrived the next week, then another in the days before his 50th birthday. "I was blindsided and then insulted," said Erickson, an avid runner who clocks 50 miles a week. "I still consider myself as relatively young. It had to be a mistake." He didn't think AARP tracked you down for its $16 annual membership that allows for senior discounts on everything from dinner out to travel and the movies until at least age 55. "It's like taking a step into oblivion," he said. "Once you take that step, there you are. You are always a senior citizen"/Erica Curless, SR. More here.
Question: Hey, I still don't have my AARP card. Do you?
---
---