Tue., Feb. 11, 2014, 11:32 a.m.
Sgt. Wood Explains Hearing Role
Sgt. Christie Wood (RE: Council 4-2 against guns-on-campus, bias bills): Yesterday I was called to speak to the Mayor and Council as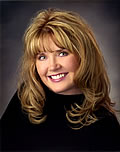 an employee of the Police Department. I am the Law Enforcement liaison to the legislative committee that advises the Mayor and Council on pending legislation that could have potential impact on the City of CDA. I presented the views of the Chief of Police who does not support the guns on campus bill in its current form. As a practice when testifying before Mayor and Council our officers are in uniform as a show of respect. During the workshop I was asked by Councilman Gookin to provide my insight as a NIC Trustee. I shared with him the views of the Majority of the Board. The bottom line is everyone is having productive conversation about how to keep our campus safe. The NIC Trustees are exploring ideas and possible changes to our weapons policy. We hope to keep our policy decisions at a local level where we can best assess the safety practices of our campus. Full comment here.
Question: Do you have any problems with Sgt. Christie Wood being involved in the community, for a long time, as a Coeur d'Alene School Board member (past) and now as an NIC trustee and chairman of the Kootenai County Task Force on Human Relations?
---
---