Tue., Feb. 11, 2014, 12:03 p.m.
Washington Executions Put On Hold
Washington will not execute anyone on death row while Jay Inslee is governor. Inslee, pictured, announced a moratorium today on capital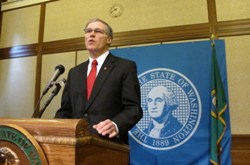 punishment, saying he will issue a reprieve if any execution warrant comes to his desk. He's not issuing a blanket commutation of sentences, and anyone who gets a reprieve from him could still be executed by a successor. He expects the moratorium to spark a conversation about the death penalty in Washington. "I am not convinced equal justice is being served," Inslee said at a press conference to announce that he has changed his mind on capital punishment, a penalty he previously supported for some cases. "During my term, we will not be executing people"/Jim Camden, SR. More here. (AP photo)
Question: Should Idaho Gov. Butch Otter call for a moratorium on death penalty, too?
---
---